Realize Your Inner Power with Total Brain
The poor mental health of your workforce can contribute to their poor physical health. Is your organization ready to do something about it?
Break the Mental Health Stigma at Work
Organizations offer employees physical health benefits, but what are you doing at your company to promote better mental health? Poor mental health can hurt productivity, contribute to poor physical health, and drive up healthcare costs within organizations. Supporting mental health can lessen these effects and provide a happier and healthier workforce.
Mental Health Can be Measured and Improved
Our mental health is powered by 12 interdependent brain capacities. Our emotions greatly influence all other brain capacities, which can also be impaired by mental conditions like Depression, Anxiety, PTSD, Addiction, Sleep Apnea, Social Anxiety, etc. By measuring and training brain capacities, and screening for conditions, mental health can be improved. Emotion
Awareness

Negativity bias

Self--Control Feeling
Anxiety Control

Stress Control

Depression Control Cognition Self Control
Social Connectivity

Resiliance

Conscious Bias
The Total Brain Platform
Total Brain is an innovative mental health and fitness platform powered by the world's largest standardized neuroscientific database. Here's how it works:
Assess
Take the confidential 20 minute assessment. Organizations can also choose to confidently screen employees for common mental health conditions such as depression, anxiety, ADHD, and others.
Analyze
Analyze your results on the dashboard and learn to understand your strengths and weaknesses. Select and start a four week journey to start improving your mental health.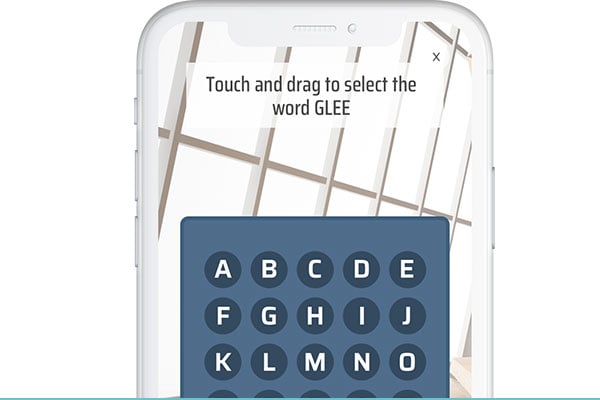 Train
With just 15 minutes a day, start improving your mental health. Choose from over 40 different mind and brain training exercises focusing on improving one of your 12 brain capacities.
Track
Upon completing your four week journey, reassess your progress by completing another assessment. See how much you've improved, and embark on another journey as you continue to grow.
Evaluate Your Employees Mental Health Risks
With aggregated reports of anonymous employee statistics, organizations can monitor and better understand their employees' brain performance and mental health risks. By analyzing these results, your organization can take action to create a healthier work environment for employees.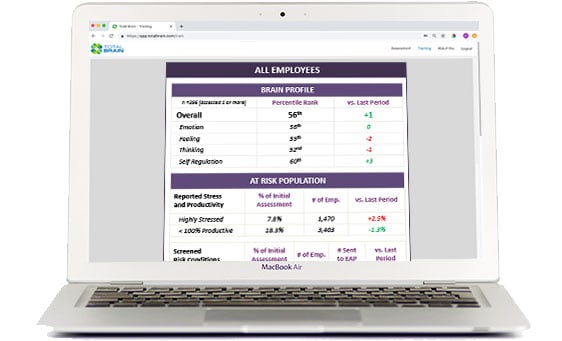 Request a Free Demo
Ready to start improving the mental health of your organization? Contact us for a demo and get a free baseline assessment of your company's brain performance and mental health risks.